---
The Newspaper AZ (Allgemeine Zeitung) in Mainz produced this Video during our concert in the venue "Frankfurter Hof" at March 1st  2015.
Look at the following Link:
www.allgemeine-zeitung.de/mediathek
---
Obituary
Douglas Henning
It is with great sadness that we have to share with our fans and friends news of the tragic death of one of the founding members of TUKUO, Dougie Henning.
Peter Moss had known him as colleague and friend for over forty years and thus when Peter came to found the Orchestra in 2009 and needed someone with vast musical and life experience Dougie was the obvious choice. He readily jumped at the chance of a new challenge, a new musical adventure and was always the voice of experience, calm and reason when all around him were worrying, fretting or suffering from stage fright. His sense of humour was legendary as were his timely quips, one of his most famous being, "your wish is my invoice".
Since the inception of TUKUO Dougie had always been there and although his brain was as razor sharp as ever his body was beginning to fail him. However much he slowed down over the years, often in pain and uncomfortable, he always rose to the occasion, going on stage with the "young-uns" and really enjoying the huge applause and respect he received from the audience every night.
Dougie was a big man in every way and his passing leaves a huge gap in a modern music world that he helped to found. The term 'irreplaceable' is often overused but in Dougies case totally justified. He may be gone but certainly not forgotten and noone will ever be able to step into those shoes, the shoes of a man who for almost sixty years strode through the British music scene leaving behind him a legacy that only historical perspective will be able to properly evaluate.
Douglas Henning, may you finally rest in peace with your Rosa.
---
TUKUO was part of the ALASKA WORLD MUSIC FESTIVAL. On October 31, 2014 the orchestra performed in the Attwood Concert Hall in Anchorage.
In this important Festival of World Musics they drew attention to the project UKULELES FOR PEACE during their performance.
www.alaskaworldaffairs.org/events/uk-ukulele-orchestra/
---
The TV-Station NDR made this report of our concert in Hamburg: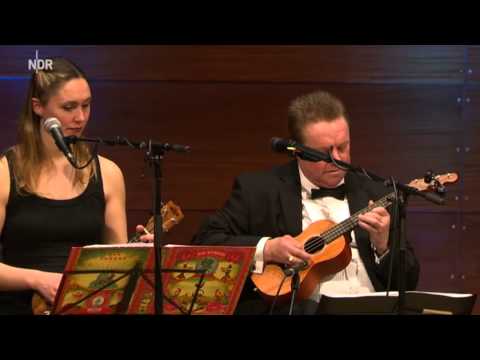 ---
Pockets (Stuart Crout) made ​​ funny videos to Backstage-Impressions from the United Kingdom Ukulele Orchestra on tour in 2014.
Please watch on youtube:
---
The broadcasting station in Hamburg ( NDR ) filmed a live recording at the Concert-Hall in Hamburg for the magazine "Hamburg Journal" on 28 February 2014.
---
The new CD, which was recorded in the Liederhalle Stuttgart in  2013,  is now available at Amazon.
Link: Amazon
---
The British Embassy presents : MINI Tour visits THE UNITED KINGDOM UKULELE ORCHESTRA in Düsseldorf
Link to the Video
(Copyright: Bodo Brüsehaber, British Embassy).
---
New recorded songs and videos from our concert 2013 in Stuttgart are now available on youtube.
Rolling in the Deep
http://www.youtube.com
Jollity Farm
http://www.youtube.com
I Wanna be like You
http://www.youtube.com
Ashes to Ashes
http://www.youtube.com
Walk like an Egyptian
http://www.youtube.com
He's my sweet fine Lord
http://www.youtube.com
Good Vibrations
http://www.youtube.com
Trail of the Lonesome Pine
http://www.youtube.com
007 My Name is Bond
http://www.youtube.com
Das Model
http://www.youtube.com
---
On the occasion of his visit to Chancellor Angela Merkel in Germany, the British Prime Minister David Cameron personally inaugurated a MINI which is completely covered with the colours of the Union Jack. This MINI paid a visit to the artistes at the Savoy Theatre in Düsseldorf on 4.5.2013 on an assignment from the British Embassy.
The reason for this mission was the guest performance of the United Kingdom Ukulele Orchestra in Düsseldorf. The eight British artists, who combine in ingenious manner music of all styles and trends with comedy à la Monty Python, have a strong link with this unusual vehicle. They too function according to the policy: "maxi fun with mini instruments".
Before the concert TUKUO made a musical greeting to the colourful MINI outside the Savoy. The cheerful ceremony was filmed by a camera team from the British Embassy and will shortly appear on Youtube.
---
The United Kingdom Ukulele Orchesta was part of the television show "Hauptsache Kultur" (Hessicher Rundfunk Broadcasting ) on Febr. 21 st 2013 with a report of the concert in Gelnhausen. HR-Television
---
Our new CD TUKUO "The Hamburg Concert" is now available at Amazon.
Info here
---
TUKUO was part of the evening news ( Berlin-Brandenburg-television ) on Oct. 6th with a report from the "Tipi am Kanzleramt".
---
In Berlin, the first one of the craziest ukulele players in the world will be there. Over 5 million views on Youtube reached Stuart Crout, called simply "Pockets". With his song "The Final Countdown" on his converted ukulele, which he calls "Kazookeylele". First, he is to be seen in Germany as a new member of the orchestra at the TIPI AM KANZLERAMT in Berlin on 6 to 14 October 2012. Visit, here's the link:
http://www.youtube.com/watch?v=XAg5KjnAhuU
---
There are 21 new videos available now on Youtube, filmed at St. Pauli Theatre in 2012. ( "The Hamburg Kabarett-Festival 2012" )
For Example: www.youtube.com
---
The Audio CD "Live in Concert 2011" is now available at Amazon.
---
THE UNITED KINGDOM UKULELE ORCHESTRA
live filmed in Kassel and aired of television by the broadcasting station (ARD) on May 6th  2012 in the "Hessen-Show"with an interview by Peter Baynes, concert clips and surveys of the audience.
THE UNITED KINGDOM UKULELE ORCHESTRA live filmed in Kassel
---
The United Kingdom Ukulele Orchestra live in the studio of the Austrian television station ORF on the 8th of April 2012
---
THE UNITED KINGDOM UKULELE ORCHESTRA live at the "Evening News" of the Bavarian Broadcasting  (ARD) on 12 March 2012
Link: Evening News from 12.th March
---
Cultural Tip of the SWR broadcasting on 8 March for TUKUO
http://www.swr.de/nachtkultur/angesagt/ukulele-orchestra-tournee/-/id=3096806/gp1=SDB_3A637518/nid=3096806/did=9205740/e1hymp/index.html
---
DEBORAH SASSON and UDO WALZ sponsor the project "Ukuleles for Peace" in Israel
We are glad to inform you that the world-renowned opera singer Deborah Sasson from Boston (USA) and the famous hairdresser Udo Walz from Berlin are sponsoring the project "Ukuleles for Peace" in Israel ( founded by Paul Moore ) to support the "United Kingdom Ukulele Orchestra" in efforts to raise more public awareness of this peace initiative involving Israeli and Palestinian children.
---
Peter Baynes
Professional musician Peter Baynes is confident his ukulele course at Wester Hailes Education Center will prove a hit and is aiming to get a group up and running – and ready to put on a live performance – after just four lessons. Peter Baynes, who plays a genuine ukulele, aims to form an orchestra in Wester Hailes.  (Evening News, Edinburgh)
---
The United Kingdom Ukulele Orchestra will join again the  "Hamburg Kabarettfestival"
The United Kingdom Ukulele Orchestra will join again the "Hamburg Kabarettfestival" in the St. Pauli Theatre in May 2012.  The Orchestra was also an official part of the respected Festival of comedians in 2011.
---
International Jazz Festival in Kaiserslautern (Germany) 2012
The United Kingdom Ukulele Orchestra will give an official performance at the "International Jazz Festival " in Kaiserslautern ( Germany ) in April 2012.