YELLOW PROMOTION
PRESENTS
BEST BRITISH COMEDY !
MAXI-FUN WITH MINI-GUITARS !
THE UNITED KINGDOM
UKULELE ORCHESTRA
TUKUO – DIRECTED BY PETER MOSS
THE NEW PROGRAMM for 2013: "And the Uke Goes On!"
ATTENTION! The Brits are back!-Brilliant Comedy-Brilliant Music
Is it possible for anyone to create a show that brilliantly combines music from Mozart to Monty Python, Bach to the Beatles, Chick Corea to Rossini?
The answer of course, in the case of The United Kingdom Ukulele Orchestra (TUKUO) is a resounding "YES!" Their motto is: "Musical  borders belong to yesterday".
After two hugely successful European Tours in 2011 and 2012 they're coming back in 2013. The musicians from the United Kingdom Ukulele Orchestra, directed by Peter Moss, with their totally unique blend of vocal harmony that brings every concert hall to its feet night after night are returning. Combine this talent with their own brand of typical British humour, brilliantly daring and inventive arrangements and the unbelievable sound of their miniature instrument of choice, the famous and often overlooked ukulele, originally from Hawaii.
"DON'T MISS THIS!" announced the SWR Television station. "THE UKULELE ROCKS!" shouts the Stuttgarter Zeitung. Various other influential city newspapers, der Mannheimer Morgen, die Allgemeine Zeitung, die Heilbronner to name but a few, enthuse with such comments as "brilliant music-cabaret experience", "wonderful musical comedy" and "the best fun ever!"
The musicians, variously from London, Edinburgh, Nottingham and Glasgow, can always be relied upon to enthrall their audiences. With a new programme and many new comic ideas they're coming back in order to show that when you have your ukulele firmly in your musical grip, you add some wonderfully unique vocals and top all this off with a fair helping of British humour – ANYTHING GOES!
The long standing BBC musical director, conductor and composer Peter Moss was bassist, guitarist and finally pianist and musical director of the original London production of the world-famous "Rocky Horror Show." He also worked as player, musical director and arranger for the Sony-prizewinning BBC radio series "The News Huddlines" that ran for 27 years! Given the fact that he was musical director, arranger, friend and Sergeant-Major for Vivian Stanshall who, with the "Bonzo Dog Doo-Dah Band" in the sixties worked alongside people who were the future of world comedy as we now know it, i.e. John Cleese and the Monty Python team, his comedic roots were laid. Madness and mayhem were always present in his musical life with other professional musician friends and when in 2009 the silliness of a few mates developed into a seriously professional musical unit, topped off with years of comedy experience, the orchestra as it now is was born. "Now it's a crazy family!" says the oldest member of the band, bassist Doug Henning.
The rest of the orchestra consists of Jessica Barr, Lesley Cunningham, Dave Kavanagh, Andy Wild, Alistair Mackenzie, Peter Baynes and Alan Dowson cover the whole range of the ukulele family: baritone, tenor, concert and soprano.  They also swap instruments from song to song. Whoever plays this instrument, whether the arrangements be written or not, breaks down the borders between the  musical genres and in doing so invites the audience also to "have a go!".
And after such a wonderful concert the facts are clear; the ukulele is a cult instrument; and the Brits are born comedians.
Thus the new programme is called "AND THE UKE GOES ON!"
"If you love Monty Python you'll find its musical equivalent here"
Deborah Sasson.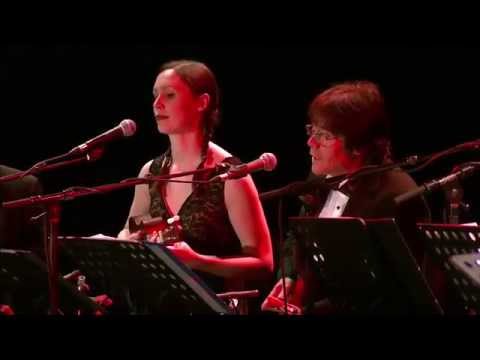 ---
Selected Venues:
Alte Oper-Frankfurt / Staatstheater Darmstadt / Philharmonie im Gasteig-München / Konzerthaus Wien / Liederhalle Stuttgart / Konzerthaus Karlsruhe / Spirgartentheater Zürich / Stadttheater Chemnitz / Kurhaus Wiesbaden / St. Pauli Theater Hamburg / TIPI am Kanzleramt-Berlin / Parktheater Iserlohn / Theater am Aegi-Hannover/ Jazzfestival-Kaiserslautern im Kammgarn / Leipzig Theaterfabrik / Conservatoire Luxemburg / Innsbruck Congresszentrum / Meran Kurhaus / Kabarett-Festival Hamburg St. Pauli Theater / Harmonie Heilbronn / König-Albert-Theater-Bad Elster / Kurhaus Bad Bevensen / Linz-Brucknerhaus / Theater am Ring-Saarlouis / Ringlockschuppen Bielefeld / BigBox-Kempten /  Steintorvariete-Halle / Stadtcasino-Basel  ….  Etc…..